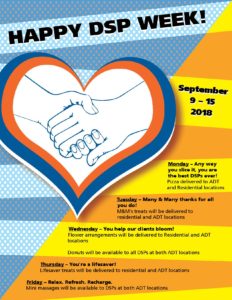 National Direct Support Professional (DSP) Recognition Week is September 9-15. During this time, it is our great honor to celebrate the wonderful Direct Care Professionals (DSPs) in our adult day training and residential programs that provide care, support, and love to those in service at Key Training Center. Every day, our DSP staff shares their talents to enhance the lives of others. They are true servant-leaders by putting the needs of others first and helping persons with developmental disabilities develop and perform as highly as possible. They play a significant role in transforming our community to be servant-leaders too. The way our direct care staff dignifies and believes in the abilities of the people they work with truly sets a standard of inclusive behavior out in our community. They are role models on how to treat others with the cornerstones of kindness, love, dignity and respect and our community watches and learns from them.
We at the Key Training Center will continue to work tirelessly to provide the resources to recruit, train, and retain a sustainable DSP workforce. We will continue to advocate for adequate public funding to offer competitive wages, benefits, training, and career development for our DSP staff and we will not stop. Medicaid reimbursement rates make it challenging to pay the wages they deserve. The Key Training Center employs about 285 employees with many DSPs working in the adult day training, residential, and retail departments. We are proud of our staff and the work they do for the Key Training Center.
Our DSPs are the backbone of the Key Training Center. They personify what we do. They care for others. They support others dreams and aspirations. Miracles happen every day at the Key Training Center by DSPs, working together to make all lives matter and flourish.
To all our DSP staff, thank you for your extraordinary efforts and thank you for choosing the Key Training Center as a place to share your talents and your passion! Please join us in celebrating those that make a difference in our community.
Melissa Walker
Executive Director