A world of a difference: DSPs help change people's lives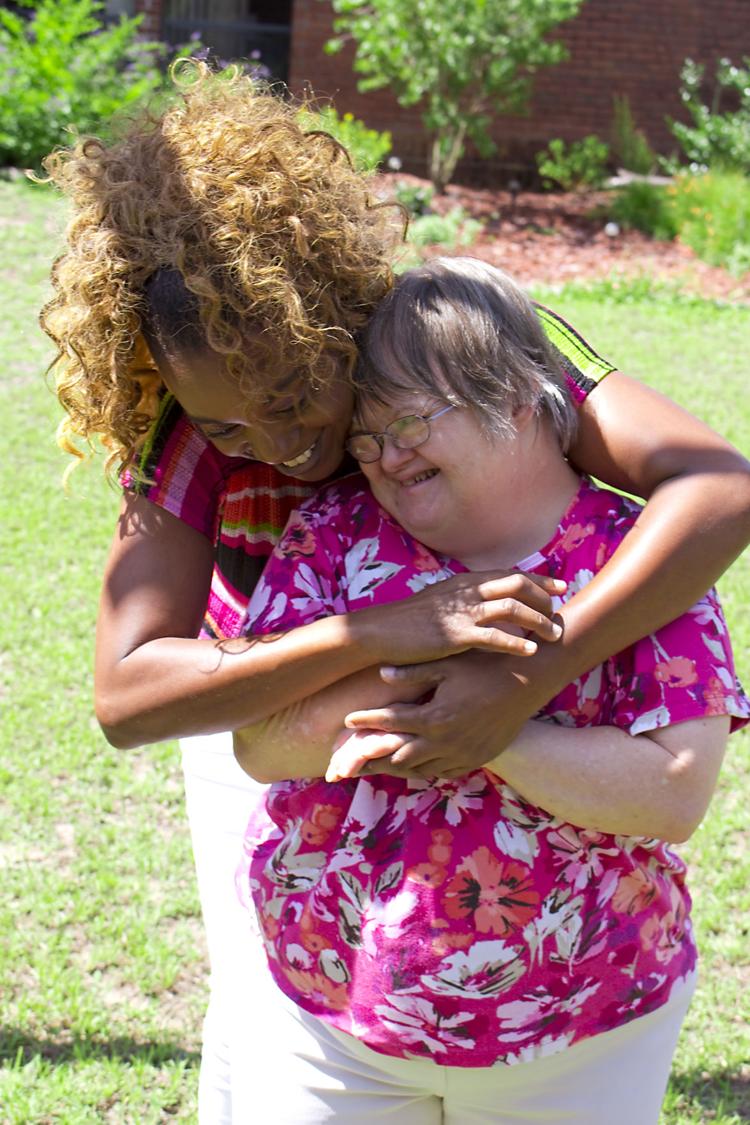 As we approach our annual Run for the Money activities in efforts to bring awareness of persons with intellectual and developmental disabilities (I/DD) and raise funds for needed scholarships, it is important that we recognize our direct support professionals (DSPs) who are the backbone and lifeblood of our organization of long-term supports and services for people with I/DD such as autism, cerebral palsy and Down Syndrome.
DSPs are integral in helping individuals with I/DD to lead a fulfilling life in the community through a diverse range of services including, but not limited to, helping individuals with basic health, self-care and personal needs; developing social relationships; getting ready in the morning; gaining work skills; obtaining and retaining employment; providing transportation; participating in social activities; implementing support plans; understanding rights and making choices; taking medications; learning new skills; and facilitating connections to the people, resources, and experiences necessary to live fully and safely in their communities.
The Key Training Center employs about 285 employees with many DSPs working in the adult day training, residential, and retail departments. While we need management to handle the business side of what we do, it is without a doubt that the great group of DSPs in our organization is what makes the Key Training Center what we are today.
We can't underestimate the importance of our DSPs as they are the cornerstone of our nation's long-term care system. The quality and stability of this workforce is of fundamental importance to the well-being of the millions of people with I/DD that rely on them for essential care, services and support.
The DSPs workforce is made up of over 4.5 million workers in the United States. DSPs are among the nation's most vulnerable workers due to receiving low wages with many working multiple jobs.
Today, these individuals often have to weigh the rewards of working with I/DD with the financial needs of their own families. The result is a DSPs workforce that has been plagued by turnover rates ranging from 40-50 percent.
Earlier this year, the President's Committee for People with Intellectual Disabilities (PCPID) released the 2017 report "America's Direct Support Workforce Crisis: Effects on People with Intellectual Disabilities, Families, Communities and the U.S. Economy." PCPID serves in an advisory capacity to the president of the United States and the secretary of Health and Human Services (HHS) promoting policies and initiatives that support independence and lifelong inclusion of people with I/DD in their respective communities.
Bottom-line, this report clearly states we are facing a national crisis when it comes to recruitment and retention of DSPs. Of particular note are PCPID's recommendations that the federal government encourage states to ensure their rate-setting methodologies offer sufficient DSP wages. PCPID also mentioned the importance of tracking occupational and wage data specifically for DSPs. Additionally, the committee had several recommendations that encouraged the federal and state governments to incentivize all sectors of the economy to create interest and investment in the DSP workforce.
About 60 percent of the Key Training Center's annual operating funds are made up of government programs. This year we are calling on our community to take action in helping educate and advocate to the Florida governor and the Legislature for impactful increases in the Medicaid Home and Community Based Services (HCBS) Waiver reimbursement rates for local not-for-profit community providers, such as the Key Training Center. The HCBS waiver is essentially the only payer for services for people with I/DD and as a result community providers cannot simply raise prices or shift costs to offer competitive DSPs wages and meet uncontrollable insurance increases such employee health care, unemployment compensation, workers' compensation, and property.
HCBS waiver rates are determined by individual states and must be included in the state's Medicaid plan, which is ultimately reviewed by the U.S. Department of Health and Human Services' Centers for Medicaid and Medicare Services. Only with a HCBS waiver increase will the Key Training Center have the ability to provide their DSP workforce with a living wage, be fully-staffed and retain direct-care staff.
Many of our DSP's salaries are just above the state's minimum wage compounded with stagnant pay for years. The Florida minimum wage has increased from $5.15 per hour in 2003 to $8.25 per hour as of January 2018, a 60 percent increase. Because staffing costs represent about 70 percent of community provider agency operating expenses, we are facing hiring crises based on inadequate rates.
We need help to bring this critical issue to the forefront and address this workforce crisis in our community and across the state of Florida and the nation. Building and retaining a strong, qualified and sustainable workforce requires a commitment to people with I/DD and, respectively, valuing the workers who support them.
As this crisis continues, individuals with I/DD and their families will continue to face uncertainty and anxiety.
Serving Citrus County for over 50 years, the Key Training Center has been blessed with many dedicated DSPs who certainly do not stay for the paycheck but instead for their friendship, devotion, and love for these special people to live, work, learn and experience their community.
The value of quality DSPs cannot be unrecognized. So please join us during our Run for the Money activities to acknowledge, recognize and express thanks to our DSPs workforce for the real difference they make in people's lives every day at the Key Training Center and our community as a whole.
Melissa Walker is the executive director for the Key Training Center.