June 18, 2020
Dear Key family,
Thank you for all you have done to prevent the spread of COVID-19 and for your support and trust during this challenging time. As we adjust our daily lives and work together to get through this public health crisis, I want to assure you that we remain dedicated to working with you and our staff to safeguard the health and well-being of the individuals we serve, our teams, and communities. Our response to date has been incredible because of the hard work and creativity of our leadership and staff members. Amid a crisis that turned our world upside down, we never let fear or uncertainty stop our commitment to our mission. We are fortunate to be a large and stable organization to weather this storm and meet our community's needs.
As communities reopen and the country enters a new stage of the pandemic, we wanted to take a moment to celebrate and recognize our staff team members for their strength and commitment shown to each other, our clients, and customers.  Like hospital staff, delivery men and women, and grocery store workers, our frontline direct care is essential. They make it possible for the individuals we serve to continue living full lives in the communities they call home. We also are grateful for our retail staff members for continuing to make a difference every day in ways big and small, by serving our community and generating funds for the Key Center organization as a whole. Staff members in our business office, human resources, and maintenance departments have not missed a beat, continuing to provide superior support services to our organization to keep us running.   In recognition of our staff's commitment, we will be giving a Hero Pay bonus later this month.  Please join us in thanking and saluting our staff members for remaining steadfast in our mission and putting the needs, safety, and morale of each other and the individuals and customers we serve as a priority.  Below are just a few photographs of our staff taking their jobs to heart and keeping everyone around them safe: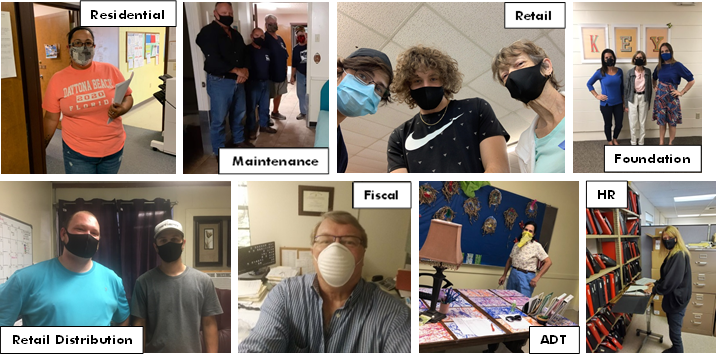 We will be entering our 2nd phase of reopening on Monday, July 13, for our day services programs. Our Day Services program will comply with the Governor's Phased Task Force requirements by opening no more than 50% capacity. The following preventative measures and practices will be in place:
Our group homes will continue to attend the day services program up to five days a week. Our medically fragile homes, including Contento, Spooner, Key Light 2, and other identified vulnerable residents will not be attending the ADT program at this time but will continue to have ADT services delivered in their homes.
Residents of Key homes will go back to their pre-COVID-19 day services classroom/work self-contained areas and only have interaction with other Key group home residents. They will continue to be separated from community ADT clients.
Ongoing, a small number of additional community ADT clients will be attending but in a phase-in approach and will be separated from our residential Key group home clients.
Ongoing, ADT facilities will be cleaned and sanitized three times a day (10 a.m., 12 p.m., and 2 p.m.). Restrooms will be sanitized after each use. Work simulation materials will be sanitized, quarantined, or discarded after use. Training materials will be sanitized and/or quarantined for at least 24 hours after use. Frequent hand washing and hand sanitization will be encouraged throughout the day.
Ongoing health screenings of staff will be conducted immediately upon arrival at the ADT and before entering the facility. Health screenings of all clients will be conducted either before they enter the vehicle used for transportation or before entering the ADT facilitates. Wellness screenings will include a no-touch temperature check and visual wellness observation. Any person with elevated temperature or displaying symptoms will not be permitted to enter the ADT. Participants should not be coming to the Day services if symptomatic and/or medicated with fever reducers or pain relievers, as this may mask contagious symptoms. If someone becomes sick, they will be isolated, and the caretaker will be contacted. The wearing of a face mask will be mandatory for all staff. ADT clients will be encouraged to wear masks.
Ongoing, physical touching will be strongly discouraged, including handshakes, hugs, high-fives, and fist bumps. Social distancing tape areas are in place. The workspaces for the ADT allow for more spacing between individuals. Seating is within 6 ft. apart with assigned seating. Meals and breaks are taken at their individual workspaces.
If you have any questions or concerns, please call 352.795.5541: Theresa Flick, Director of Program Operations, ext. 224; Barbara Branch, Director of Day Services, ext. 244; or Cole Kiser, Director of Residential Services, ext. 227.
To date, we have had no client or staff positive COVID-19 cases. We continue to closely monitor events associated with COVID-19 to make sound safety decisions and comply with the prevailing and recommendations set forth Executive Order, Safe, Smart, Step-by-Step Plan to Reopen Florida, CDC, Agency Health Care Administration, and Agency for Persons with Disabilities. We will get through this time stronger and together!
Sincerely,
Melissa Walker Executive Director