Key Center client Aaron Wilcox embodies the spirit of volunteering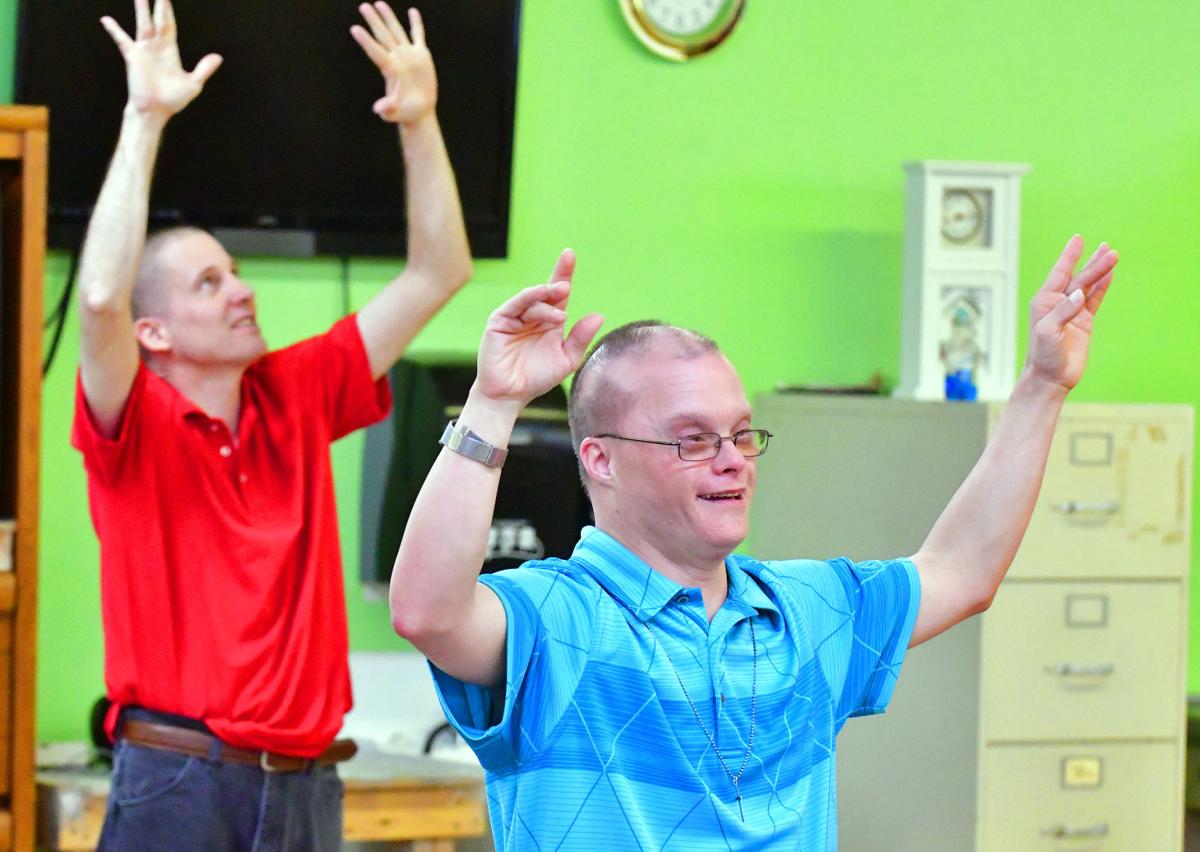 As Aaron Wilcox took a break from his job at the Key Training Center workshop, he smiled and offered a handshake and a polite, "How are you?" to a visiting Chronicle reporter.
Thoughtful and deliberate in his speech, he explained his feelings about his life as a client at the Key.
"A lot of love and a lot of care," he said. "This is my family."
Now 37, Wilcox has been a part of the Key Center since graduating from Lecanto High School in 1999.
"I was born in Massachusetts — I was actually adopted as a baby," he said. "I was in the hospital and my mom came and found me and adopted me."
He said he remembers flying on an airplane with his mom and dad and moving to Beverly Hills.
"I actually remember correctly that I was a baby then," he said. "I went to Lakeview School in Hernando when my mom was a teacher's aide there, and then I went to Citrus Springs Middle School and Lecanto High School and now I'm at the Key Training Center."
In the early years, he lived in a Key apartment near downtown Inverness. Back then, he was a man about town.
"I was independent, living on my own, cooking on my own," he said. "I was doing my own laundry, making my own bed, cleaning on my own. But during that time when I had my own apartment, my dad got sick and then he got worse.
"So, I went back to Mom's house and stayed there for a while to help her out. Then my dad passed away," he said.
His mother remarried, but then she died last July.
"Mom lived 90 years. I had her for 90 years," he said.
After that he lived a number of Key Center places — Davis Cottage and Spooner Cottage group homes as well as an apartment with a roommate.
"Then I finally moved to a group home in Inverness where I stayed put," he said.
Heidi Gutierrez, development and community relations manager for the Key Foundation, called Wilcox a star.
"Months ago when we started gearing up for this year's Run For the Money, Aaron was one of the first clients that came to me wanting to sign up for every single event we have," she said. "He told me, 'If you're doing the telethon, I want to be co-host. If you're going to do Walk A Mile, I want to be team captain.' He wanted to be sure he'd be in every event, and just last week he …chased me down and said, 'Do you have me on the list for everything?'
"He's just that kind of person," she said. "He is very willing to give, very motivated and active, and he wants to be part of the community. If you ask him, he will tell you that being involved is one of the biggest things for him."
This year's Run For the Money emphasis is on community involvement, how the Key Center clients are impacting Citrus County.
Of the 300-plus clients, about half regularly volunteer, donating about 100 total hours each month at 15 sites around the county, including the county animal shelter, the sheriff's office, Countryside Assisted Living in Inverness, Humanitarians of Florida, Citrus Memorial Hospital, Citrus County Blessings, Meals On Wheels and Adopt-A-Highway.
Aaron Wilcox volunteers with Citrus County Blessings and the county's Meals On Wheels program where he puts food on trays and also helps deliver the meals to homebound seniors.
"I actually walk up to the door and ring the doorbell and give people their food," he said. "I also do the dog food for Meals On Wheels."
Wilcox also volunteers with a group of about 12 Key clients for Adopt-A-Highway. Their stretch of highway is Citrus Avenue in Crystal River.
Wilcox said volunteering is important to him, especially as a Key Center client.
"Respect, dignity and kindness — that's our Key motto that we have here," he said.
But he's also about making money and saving it for his future. He wants to go on a vacation to Hawaii.
"I went to Hawaii for eight days on vacation and I want to go back," he said. It was fun. I tried to surf, but I couldn't do it. But I did go deep sea fishing and caught a big fish — I got a picture of it. And another vacation I went to Lookout Mountain (in Georgia)."
Wilcox also participates in the Special Olympics — tennis, golf, swimming and basketball.
"I have a girlfriend…and we go on dates, like to Mr. King's for Chinese food," he said. "She's more loving and more supportive…The Key Center is my family, and after my mom passed away — the Key Center meant a lot to me and to my family, and I just want to say thank you for everything they've done."
SOURCE:https://www.chronicleonline.com/news/local/key-center-client-aaron-wilcox-embodies-the-spirit-of-volunteering/article_b53021bc-8c25-11e8-8d01-9b52421da01c.html