June 4, 2020
Dear Key family,
As the COVID-19 outbreak continues to disrupt all of our lives, the Key Training Center is maintaining an outlook of the community. We want to salute our staff for remaining calm and putting the needs, safety, and morale of the individuals we serve as a priority as they continue to provide services. We tip our hat to the extraordinary individuals we serve in their flexibility as programs are shifted. They are a continual example of the possibilities that lay within each moment. We also thank each Key Center supporter, community partner, and parents/guardian, many of whom have reached out with words of support. These relationships are what define us as a family and give us the strength to weather this storm.
Following the Agency for Health Care Administration (AHCA) issued Emergency Rule 59AER20-2 and Emergency Rule 59AER20-3, all four of our assisted living facilities group homes (Burnes Cottage, Franklin Cottage, Davis Cottage, and Simmons Cottage) had mandated COVID-19 testing of both on-duty and off-duty staff and residents on May 23, 2020. About 70 COVID-19 tests were administrated. With only having a two day notice, hats off to our residential staff for making it happen. We have received word on June 3, that there were NO positive COVID-19 cases for residents or staff.
Our phased-in reopening on Monday, June 1, for our residential and day services programs went well. We thank our residential parents/guardians for being patient and working closely with us to allow safe outside visitations. Regrettably, the mandated no-visitor policy in the homes is still in effect for group homes and long-term care facilities until the Governor issues a subsequent order. There were many cheerful faces with the return of most of our residential clients to the day program. Our Day Services program is complying with the Governor's Phased Task Force requirements by opening no more than 50% capacity. The Key Center residents have done a superb job in following safety rules and operating within a contained classroom. We thank the parents/guardians for abiding by our strict health screening policies for clients living in a community home. It is all our responsibility to take COVID-19 conditions seriously by implementing all measures established to mitigate the potential for transmission of COVID-19.
Some of you may have heard we experienced a fire at our Inverness day services program on June 3. The fire was contained to the one bathroom with the cause being an exhaustion fan. Clean up of the bathroom and soot throughout the building are in progress. The amount of smoke generated was surprising. The local fire department did an excellent job of checking and securing the building, making sure there were no fire embers. All staff present did an excellent job of getting all the clients out safely and keeping everyone calm. We conduct fire drills monthly. It just so happens the training took place the day before the event. One story shared was that a client did not want to exit the day of the real thing since they did the fire drill yesterday. Client's day services on the Inverness campus will resume June 8.
Amid all this COVID-19 turmoil, the decision was made to be on the right side of the pandemic, and transition the beloved Run for the Money events into virtual events this year. Focusing on the safety of the clients, staff, and community, we will be asking supporters to take a more prominent role by putting "fun" in fundraising. This year marks the 44th Annual Key Training Center's Run for the Money fundraiser. As most of our readers can relate, the180-mile run from Tallahassee to Lecanto illustrates the challenges that adults with intellectual and developmental disabilities (IDD) experience every day. For the first time in the history of our run, we are hosting separate virtual run/walk for community members and abroad. Our core volunteer runners will still complete their 180-mile run, but now others can virtual support the Key Center in their Run for the Money marathon, whether in a gym, on a treadmill, on the nature trails – whatever is safe and comfortable. The Reach for the Stars UnGala will be held on July 17. Individuals will be able to reserve a table or purchase a ticket to receive a pick-up dinner and gain access to preview all silent auction items which go virtual on July 17-31 with an array of vacations, baskets, and items that are sure to please everyone. Walk a Virtual Mile is scheduled for July 25. Individuals will be encouraged to join a client team and crowdfund to show their support of the Key Center and clients. Concurrently, WYKE Telethon and Citrus 95, Z103.3/104.3, and Fox 96.7 will be broadcasting live from 9 am to 3 pm. For more information, go to the Key Center website (www.keytrainingcenter.org, Facebook page, text, or call (352)795-5541 ext. 312.
Please enjoy some pictures captured this week as part of our phased-in reopening.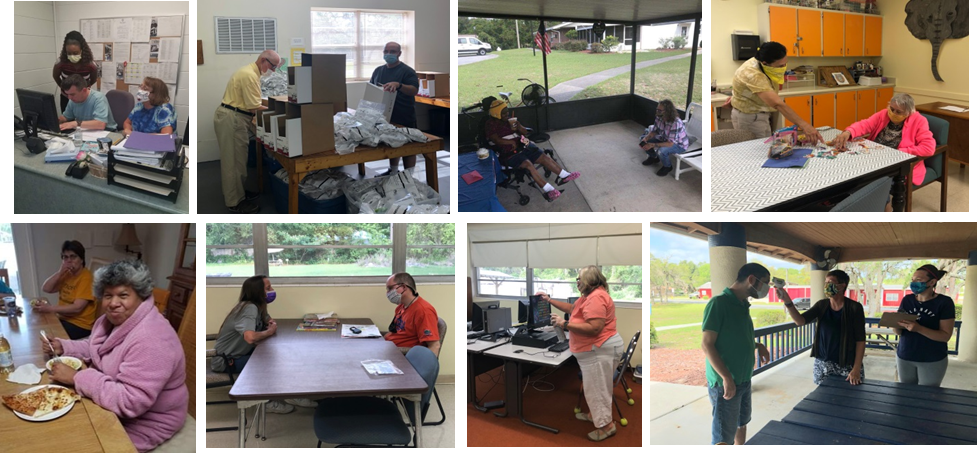 If you have any questions or concerns, please call:
Theresa Flick, Director of Program Operations 352.795.5541 ext. 224
Barbara Branch, Director of Day Services 352.795.5541 ext. 244
Cole Kiser, Director of Residential Services 352.795.5541 ext. 227
We pray for our nation as we are dealing with a public health crisis that has claimed hundreds of thousands of lives, an unexpected economic crisis with more than 40 million Americans unemployed, and the tragic killing of George Floyd bringing about social justice peaceful protests with some resulting in lawlessness. We will get through this time stronger and together.
Sincerely,
Melissa Walker Executive Director